"May we all be united in God's Heavenly Kingdom"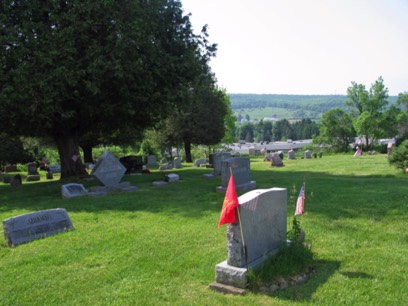 Our Mission:
We are committed to the respectful care of the people of God who even in death remain a part of the whole Catholic Community. Our cemetery is a sign of faith in the resurrection and a place of hope of the new eternal life promised by Jesus Christ to his disciples.
Cemetery Location:
Situated on a country road outside of Oxford, NY our cemetery is a place of peace and beauty overlooking part of the Chenango Valley. It is a quiet, prayerful place with room to stroll through the trees and open areas to visit deceased loved ones and remember friends who have gone before.
Our History:
Our cemetery was founded in 1855 with land purchased from C. Locke and expanded through generous farm land donations by the Leonard Quinn, Sr. Family. Currently we have 3.5 acres of undeveloped land ready for expansion. In 1991 we added a chapel and a Veterans Monument with a flag pole. It is here on the hilltop that we gather each Memorial Day at 8:00 am as our local American Legion Post begins a Memorial Day service with a gun salute, taps and placing a wreath at the monument. Following is a Mass for all those buried in our Cemetery as well as all Veterans. There is also a social time to greet friends and walk the grounds reminiscing and remembering those who have paved the way for us.
Our cemetery is open May st. through November 1st. Visitors are always welcome or click here for a visual tour. For information or an appointment with the grounds manager call the Parish Office at (607) 843-7021 or (607) 843-8785.
Our Cemetery Board:
Board Chairman -
Richard Marks
John Todaro
Business Administration -
John Franco
Coordinator -
Cathy Rood
Manager Bldg & Grounds -
Gerry Reiss
Secretary -
Julie Winner
Sue Menard
Lorry Rice
Brenda Seiler
Leonard Quinn - Honorary
Claire Braun (in memoriam)